Abass ALI
Editor.
*Maiden Export of Indian Apricots from Ladakh celebrated*
Leh, Sept. 02: Exports of apricots of Ladakh for the first time to Dubai was a historic event, said Saugat Biswas, Secretary, Industries and Commerce, today, in a virtual meeting held with APEDA, Lulu Group Dubai and Krishak Agritech. The meeting was organised by APEDA and Industries & Commerce Department, Ladakh to celebrate the maiden export and chalking a way forward.
Secretary Biswas added that within a short period, UT Ladakh was able to export apricots to Dubai. He expressed his gratitude to the team of Agricultural and Processed Food Products Export Development Authority (APEDA, all the key functionaries for helping the entrepreneurs and producers to participate in the value chain of apricot. He added that this first step will open the floodgate for other budding exporters from the region.
He added that the sweetness of the Halman apricot of Kargil is 30% more than the imported apricots, and said that there are various other varieties of apricots like Raktsey Karpo, Khante which are known for their natural sweetness and other properties. Biswas suggested that sea buckthorn and other superfoods of Ladakh have a huge potential for export, and must be considered for the purpose. He briefed about various superfoods like buckwheat, Zeera (cumin) and trout fish and added that UT Ladakh Administration is also putting a lot of effort into augmenting the quality and the production of these commodities.
He also spoke about the areas in which support of various producers and manufacturers are needed who add value and make final products. He thanked the Lulu Group Dubai for opening their avenues for Ladakh and appreciated the efforts of Director, Industries, Ladakh, Moses Kunzang for consistent follow up with APEDA.
Secretary, Agriculture/ Horticulture, Ravinder Kumar informed about the various initiatives being taken by the Horticulture Department in apricot production and added that the Department is setting up Center of Excellence, (CoE) for genetic improvement, Gene Bank for production of apricot varieties, geo-tagging of these varieties and cold storage facilities. He further informed that the Horticulture Department is also making FPO for the apricot processing and marketing. Besides, Secretary Ravinder informed that the Agriculture and Horticulture Department is planning to make Ladakh organic. Further, he informed that this year chemical fertilizer has been reduced by 30% and added that within the next two to three years Ladakh will be 100% organic in all Agriculture and Horticulture sectors.
Moses Kunzang, Director, Industries and Commerce while congratulating the entrepreneurs Mr Naveen Gahlawat of Krishak Agritech emphasised that there are many more products from Ladakh that needs to be showcased and delivered to the other parts of India and outside the country. Ladakh is excited that after so many years' Indian apricot has finally got the place that it deserves.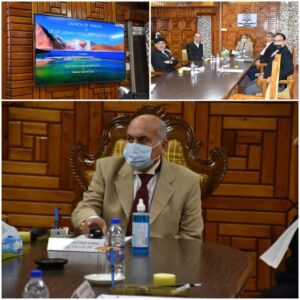 Earlier, Dr M. Angamuthu, Chairman, APEDA gave the keynote address and U.K Vats, General Manager –FFV, APEDA gave the opening address. Similarly, Salim M A of Lulu Group Dubai shared his views during the meeting. Dr. Angamuthu promised complete support of APEDA to the UT Administration for raising exports from Ladakh.
Naveen Gahlawat, Founder Krishak Agritech informed that so far the organisation has exported 20 MT of fresh apricot worth Rs 30 lacs procured from more thank 200 farmers of UT Ladakh. He further stated that while they continue to explore the domestic markets, the support from all the stakeholders involved has been their pillar of motivation.