Abass ALi
Editor.
Seven- days capacity building workshop for college teachers begins at University of Ladakh
Leh, Sep 2: The seven days capacity building workshop for the Teachers of the six constituent Colleges of University of Ladakh (UoL) by the team from Tata Institute of Social Science (TISS), Mumbai began today at the UoL campus at Melongthang Leh.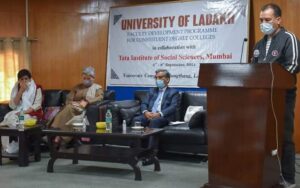 Addressing the inaugural session, the Vice-Chancellor, UoL, Prof S.K.Mehta, said that the main aim of the workshop is to improve the quality of education, to learn more engagement strategies, to improve the performances of the students and to reduce the rate of students going to study outside Ladakh. He appreciated the efforts put in by the TISS team in chalking out the Faculty Development Programme and said that he looked forward to further associate between UoL and TISS.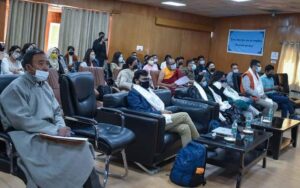 Secretary, Higher Education, Padma Angmo stressed on the need to evolve a bridge course for the fresher students of the colleges of Ladakh to reduce the dropout rate and improve the results in the First year. She flagged the issue of high dropout rate in first year that was also flagged in the 1st Development Conclave held by the Administration of UT Ladakh with the LAHDCs Of Leh and Kargil.
Prof Ashwini Kumar of TISS joined online from Mumbai to introduce the workshop and Prof. Disha Nawani, who is leading the TISS team gave a brief about the structure of the workshop.
Dean Academic, Affairs, Prof. Deskyong Namgyal & Director Prof. Tashi Dawa were also present in the inaugural session.
In the first Technical session, Prof. Ashwani Kumar briefed on Society and Education in India: curricular, pedagogic and assessment related concerns and addressing problems emerging from the home and school divide. Matters pertaining to CCE/ high stake assessments, flexibility and online learning as highlighted in the National Education Policy (NEP) 2020 were discussed.
Around 35 Assistant Professors from constituent colleges of Leh district attended the workshop which will be held for three days in Leh from 2nd to 4th September and three days in Kargil from 6th to 8th September.
The workshop aims at capacity building of Assistant Professors from all the six constituent Colleges of University of Ladakh. The workshop will also work towards building new innovative methods of teaching by taking into account barriers and practical challenges being faced by Students as well as Teachers.
The University of Ladakh (UoL) is organizing a faculty development for the teachers of its six constituents with the help Tata Institute of Social Science (TISS), Mumbai.