Prin Secy Planning reviews Rs 129 cr Changthang Package under SDP
Leh, September 1: Principal Secretary, Planning Development & Monitoring Department/ Chairperson of the Changthang Package Committee, Dr Pawan Kotwal, today, chaired a meeting to review the Rs.129 cr of Changthang Package under Special Development Package (SDP).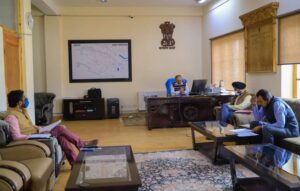 During the meeting, Chairperson, Dr Pawan reviewed the ongoing works, the status of procurement items, status regarding non started works and Action Plan of next FY 2022-23. Department including Animal Husbandry (AHD/SHD), Youth Services and Sports, Wildlife, Command Area Development, Horticulture, Health, School Education and Rural Development were reviewed during the meeting.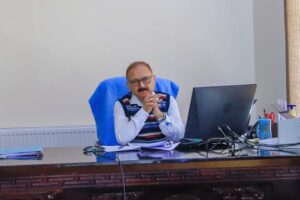 While reviewing Animal Department (AHD/SHD) discussion on the construction of nomadic museum at Nyoma and Tangtse sub division, strengthening of veterinary hospital and accommodation at Nyoma, strengthening of vetenary hospital and accommodation at Durbuk, creation of fodder banks in Changthang (Durbuk Block, insulated Houses for Nomads of Changthang region and pasture and other issues were held.
Principal Secretary was appraised that insulated houses for Nomads of Changthang region is one of the most important projects and most of the funds will be utilised in this project. Further, he was also apprised that the estimate cost of 350 houses costs around 50 crores.
Furthermore, Dr Pawan Kotwal further directed that one genetic sequencer for UT Ladakh should be procured for the centralised laboratory.
Similarly, while reviewing Rural Development Department, Dr Pawan asked the Director, RDD to do the site selection properly for the construction of various livestock sheds.
Reviewing the School Education Department, he directed the Secretary, School Education to provide the best quality kits to the students. Further, he directed the Director, School Education Ladakh to identify the items and do a proper market survey and get the kit approved by the Committee. Additionally, regarding the Gen-set, Dr Pawan directed to convert it into solar backup.
Further, Principal Secretary, Dr Pawan directed to purchase the books immediately and make the libraries functional soon and also asked to expedite the procurement of equipment at the earliest. He further directed to make a logo for Changthang Package. Regarding the arts and music instruments, he directed to take school wise demand.
Additionally, Wildlife Department was also reviewed where discussion on construction on predator-proof corral pens was held.
Also, Youth Services and Sports Department was reviewed and discussions on varied issues such as the creation of sports infrastructure & procurement of Sports items, construction of the multipurpose indoor stadium in Changthang were held. Similarly, Horticulture Department was also reviewed.
Regarding the Health Department, Dr Pawan directed to expedite the site preparation work for installation of 300 LPM PSA Oxygen Generation Plant in CHC Durbuk, construction of isolation ward and ICU ward at CHC Nyoma and to procure the equipment and Mobile Unit Ambulance and directed to finish the work at the earliest.
Talking about the Command area development, Dr Pawan directed to submit photographs of the progress of the ongoing works every fortnight.
The meeting was attended by Ajeet Kumar Sahu, Commissioner/Secretary, Ladakh; Ravinder Kumar, Administrative Secretary, Ladakh; Preet Pal Singh, Chief Wildlife Warden, UT Ladakh; Tahir Hussain, Director, Rural Development Department; Director, School Education Ladakh; Director Health, UT Ladakh and Tsering Angdus Deputy Director, Planning.