Mock drill exercise on earthquake disaster successfully conducted in Kargil
KARGIL, SEPTEMBER 08:
National Disaster Management Authority in collaboration with District Administration Kargil/DDMA today conducted a district-level emergency response mock drill exercise on earthquake disaster at Kurbathang, Kargil under the guidance of Maj. Gen. Sudhir Bahl (Retd), Consultant (ME & IRS), NDMA, Govt. of India.
As per the mock drill program, an earthquake was presumed at 9 a.m. after which Radio Station and Police started alerting sirens. The District Magistrate alerted the Emergency Operation Centre (EOC) after which the communication was switched to wireless or satellite communication.
The initial responders including the District Officers assembled at staging area with resource after which various teams rushed to presumed sites for assessment followed by search, rescue operation and relief.
Deputy Commissioner and CEO, LAHDC, Kargil Santosh Sukhadeve, SSP Kargil Anayat Ali Choudhary, Additional Deputy Commissioner, Kargil Mohi-ud-Din Wani, Additional SP Kargil Iftikhar Chowdhary, Commandant Utam Chand 13 Battalion NDRF, Sudhanshu Shekhar Commandant 61 BIV CRPF, Assistant Commandant Ranajit Singh 13 Batallion NDRF, Lt Col Bharat Bhusan 19 Engr. Regt., ACD Ghulam Mohammad, CMO, CEO, and others district officers, volunteers from Apda Mitra, NYK, Anjuman Sahib Zaman, IKMT and others attended the mock drill exercise and visited the sites.
The mock drill was conducted as part of a precautionary measure to test the preparedness of employees and technical staff to meet any kind of emergency situation.
The mock drill exercise was conducted at five places in Kargil including Govt. Polytechnic College Kargil, Govt. Hospital Kurbathang Kargil, Council Office, Residential Quarter Council Secretariat and Market Area from Petrol Pump crossing point to FCI Godown.
As part of the first-of-its-kind exercise, an Emergency Operation Centre (EOC) was established at Baroo Conference Hall under Deputy Commissioner Kargil/Chairman DDMA and CEO DDMA to conduct the mock drill exercise.
The mock drill started from Conference Hall Baroo and concluded at Govt. Polytechnic College Kargil.
Maj. Gen. Sudhir Bahl, who headed the entire exercise, later took a review of the mock exercise at Conference Hall which was also attended virtually by District Administration Leh. He took the review from both Leh and Kargil districts.
He congratulated and appreciated UTDRF, DDMA Kargil and DDMA Leh for conducting the mock drill exercise with team spirit and dedication. He also appreciated the role of observers during the entire exercise.
Underlying the importance of disaster management, the Consultant, NDMA, said efforts need to be taken to strengthen the disaster management response.
"Every official should know their roles and responsibilities so as to make the disaster response effective," he said.
The Consultant, NDMA said all the concerned departments should learn to deal with crisis with the existing resources and know how to use the limited resources.
He stressed centralizing available resources for disaster management adding that round-the-clock preparedness should be there as disasters have no warning signs.
The Consultant, NDMA said preparations are necessary to save the human lives during disasters and existing resources have to be used properly.
While highlighting the importance of communication between different departments, he said there has to be proper communication between all the departments to effectively handle disasters.
He directed the District Administration Kargil to make dedicated communication system nets and install Very Small Aperture Terminal (VSAT) for communication purpose in future and work for the same.
The Consultant, NDMA said coordination between Army, Police and all the government departments is pivotal to meet any kind of emergency situation.
He directed to make SOPS for disasters in the district including critical route clearance adding that capacity building is going and it needs to be improved.
Highlighting the need of improvement in the disaster management, he said volunteers play an important role in any kind of disaster be it earthquake or floods.
He also directed to encourage the use of modern scientific approaches like satellite, electronic record keeping, drones, computer systems etc.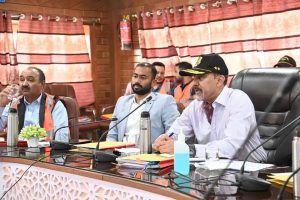 The Consultant, NDMA said that the Government of India is committed to providing training for all and a proposal should come from UT Ladakh for the same.
While sharing his observations of the mock exercise, DC Santosh Sukhadeve also reiterated that record keeping is very important in the digital age.
He also said that the communication between different departments needs to be improved and awareness is important in this direction.
The Deputy Commissioner said medical teams responded very positively and volunteers also played their part.
DC Santosh also stressed on the training of general public and students so that they are well versed about the basics of disaster management.
"It was a learning experience and we all have to work in close coordination to meet any kind of eventuality so that we respond well on time," he said.
DC Santosh on behalf of DDMA/District Administration thanked all the concerned departments for making the mock drill exercise successful.
Commandant Utam Chand, who was one of the senior observers, said the response of all the departments was very good. "The EOC worked and alternative communication worked effectively. NGOs were also included and also performed their job. Their rescue teams were also involved in the exercise," he said.
The Commandant suggested that is a need of coordination and that employees of all departments should know their roles and responsibilities.
He also suggested increasing the bed capacity of the Kurbathng Hospital, crowd control measures, contact diary with the district administration etc.
The Commandant also suggested time-to-time mock exercises to maintain the machinery and manpower and make mitigation measures.
Additional Deputy Commissioner on behalf of DDMA Kargil thanked Maj. Gen. Sudhir Bahl for taking part in the mock exercise. The ADC said it was learning experience and will help improve disaster management in the future.
The mock drill exercise is aimed to make every department in ready mode and their coordination with other stakeholders in order to tackle any kind of disaster situation.
The mock exercise is aimed to evaluate warning systems, alert protocols, Emergency Operation Center functioning and communications, ability to build situation awareness and allocate resources, identification and aggregation of responders, ability to suitably select sites for Incident Response System (IRS) facilities and activate them, composition of Incident Response Team (IRT), response, search and rescue effort, evacuation/casualty evacuation, integration of all types of responders, hospitals cope with casualties, surge capacity, emergency, re-build, check disaster management reserves held by each Department, Emergency Support Function (ESF) form, inter-departmental teams/groups/task forces including for response, restoration and ability to receive assistance and aid through road and air.