CEC chairs meeting with DRDO Leh regarding agriculture sector in Kargil
KARGIL SEPTEMBER 08:
Chairman/CEC, LAHDC, Kargil Feroz Khan today chaired a meeting with Director DIHAR, DRDO, Leh Dr OP Chaurasia regarding the agriculture sector in Kargil.
Deputy Commissioner/CEO, LAHDC, Kargil Santosh Sukhdeve, Senior Scientist, DRDO, Leh Dr Vijay K Bharti, Scientist, DRDO, Leh, Col Amit Rastogi, Chief Agriculture Officer, Kargil, Kacho Mohd Ali Khan, Chief Horticulture Officer, Ali Raza, Chief Animal Husbandry Officer, Dr Ismail, other officers and progressive farmers attended the meeting.
During the meeting, the CEC highlighted the potential of agriculture and allied sectors and the importance of DIHAR, DRDO technology in making agriculture progressive in the district.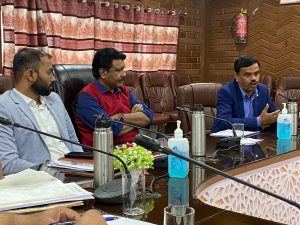 Khan suggested the DRDO to impart training on research issues for officials, entrepreneurs and farmers of Kargil.
Dr Chourasia spoke about their technologies to address various issues related to fresh fruits, vegetables, dairy products, milk, chicken rearing, egg hatching, growing aromatic and medicinal plants.
He informed the meeting that DRDO Leh has conducted scientific and interactive meetings with 45 women farmers and poultry farmers at Kanoor village of Kargil district. Chourasia also detailed about the ongoing research and plans of DIHAR.
During the event, progressive farmers requested the DRDO, DIHAR to set up a sub-centre research institute in Kargil. Later, Deputy Commissioner Kargil assured for all possible help to progressive farmers and concluded the meeting with vote of thanks.