MP Ladakh distributes various equipment to JNV school
KARGIL,MAY 23 : Member of Parliament Ladakh Constituency, Jamyang Tsering Namgyal today distributed 10 number of fire extinguisher, hot and cold water dispenser under capex budget of DC/CEO untied grand and 05 number of Interactive board for digital classroom to Javahar Navodya Vidyala Kargil under corporate social responsibility (CSR) & SD initiative of NHPC.
During the event, Former Chairman, Legislative Council, J&K, Haji Anayat Ali, Chairman, Hajj Committee, Ladakh Mohd Ali Majaz, Accounts Officer to DC, Shamim Ahmad, Principal JNV, Kargil, Sushil Kumar, DGM, NHPC, R Ganguly, President Parents Association, JNV, Habibullah beside other concerned were present.
On the occasion, MP Ladakh thanked the district administration Kargil for providing various equipments to the school from the District Capex and also appreciated NHPC, Kargil for providing 05 Interactive board for digital classroom under CSR. He lauded the school faculty for running the school smoothly despite of harsh winter and lauded the teaching faculty for best performance in the examination results.
Earlier, the MP was informed with various facilities and issues related to health, hygiene, food, extension of hostel capacity.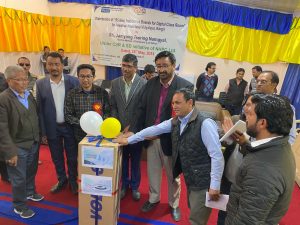 Later, he visited the campus and inspected the hostel block,toilets, bathrooms, kitchen and unconstructed campus of boys, girls and staff quarter and took stock of facilities being provided to the inmates.
The MP directed the executing agency to make the hostel winter friendly. He also instructed the concerned department to construct toilets under swatch bharat mission within the vicinity of school campus and also directed Forest department for mass plantation drive, Agriculture and Horticulture department for providing Green House, Plants and Rural Development Department for a joint convergence plan under MGNREGA to make a sustainable development.
He said that their should be no compromise health, hygiene and food and directed the In-charge Principal to submit timely reports to the office of the Deputy Commissioner Kargil and share with them any kind of requirements of the school on time.
The school administration demanded central heating, bus for the school, 50 Kw solar plant to which the MP assured to take up with the concerned authorities also assured the Vidyalaya Administration of extending full support in bringing up innovative projects in the institution.