ADC Kargil visits Zongkhul Gonpa to review electricity, drinking water facilities
Kargil, May 24, 2023: Additional Deputy Commissioner (ADC) Kargil, Ghulam Mohi-ud-In Wani on Tuesday visited Zongkhul Gonpa to review electricity and drinking water facilities.
Sub Divisional Magistrate, Zanskar, Sonam Dorjay, Exen PWD and BDO Zanskar accompanied ADC Kargil during the tour.
ADC Kargil met monks of the monastery and gave a patient hearing to the problems put up by the monks. The monks requested the ADC to sanction a protection bund at Zongkhul stream to protect the camping site of the monastery.
The ADC assured them to resolve the issues at the earliest. The monks also expressed gratitude to the District Administration for restoring the electricity and water supply in the monastery few months back after damaged by heavy avalanches.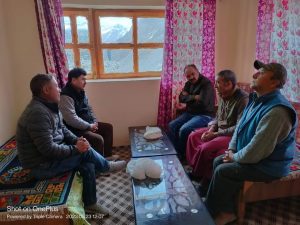 The ADC also visited Govt. High School Tungri and CHC Padum. At High School Tungri, he inspected the classrooms and interacted with students and teachers.
The Headmaster informed the ADC about student enrolment, staff strength and school curriculum. ADC directed the HM to make students aware of the ill effects of drug addiction in the morning assembly.
At Community Health Center Padum, BMO requested ADC to speed up the construction work of doctor quarters to which the ADC assured to take up the matters with the concerned authority.