MP Ladakh Jamyang Tsering Namgyal visits New District Hospital Kargil
Kargil, Nov 27, 2022: On the second day of his visit to Kargil district, Member of Parliament (MP) Ladakh, Jamyang Tsering Namgyal today visited New District Hospital Kargil where he interacted with patients and hospital staff.
Incharge CMO and BMO Kargil, Dr. Fatima Nissa, Medical Superintendent, Dr. Kacho Liaqat Ali Khan, Resident Medical Officer (RMO), Dr. Shabbir Hussain besides other concerned officers accompanied the MP during the visit.
The Member Parliament took a detailed assessment of services being provided to the patients at the newly inaugurated hospital and inspected its various sections and wards.
The MP visited General Medicine Ward, Cardiac Care Unit, Dialysis Unit and Gynaecology Ward and interacted with patients and inquired about the facilities being provided to them.
MP Namgyal was informed that at the dialysis centres, three patients are given dialysis each day and five patients are admitted at the centre. He also took assessment of services provided to pregnant women under different government schemes.
During the visit, the patients requested for transport facilities in response to which the MP assured that the issue will be resolved at the earliest.
Later, Namgyal held a meeting with the concerned officers and directed to establish Jan Aushadhi Kendra at the earliest. He also asserted that a separate OPD should be established at the new district hospital for tourists.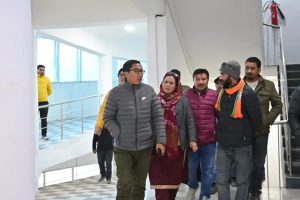 During the meeting, the Member Parliament reviewed status of Ayushman Card, National Digital Health Mission, electrification of all medical centres etc.
Regarding electrification of medical centres, he was informed that all medical centres in the district are electrified. He was also informed that majority of population has enrolled with Ayushman Bharat scheme.
The MP directed the concerned officers to submit the requirement of ambulances and drivers in the district so that the matter could be resolved at the earliest.
Jamyang also took assessment of works on Magnetic Resonance Imaging (MRI) machine, Patient Sarai and Blood Bank.
He was informed that the procurement for MRI is under process, while the Patient Sarai will be constructed within the premises of the hospital and work on blood bank will resume in March 2023.
Meanwhile, MP Ladakh also gave a patient hearing to the issues forwarded by the employees of the Health Department Kargil and assured early redressal of the same.