LPhysical & financial progress of works under District Plan reviewed during General Council Meet toda
Leh, Nov 05: To review the physical and financial progress of works under the District Capex Budget for the financial year 2022-23, LAHDC Leh conducted General Council Meeting under the Chairmanship of the Hon'ble Chairman, LAHDC Leh, Advocate Tashi Gyalson, today.
The House discussed and reviewed the updates and progress of the budget allocated to departments, including the Public Works Department, Rural Development Department, PHE, I & FC, Agriculture, Horticulture, Animal & Sheep Husbandry, Wildlife, Tourism, Education, Employment, Power, Health, Cooperative, Information, ITI, CAPD, Culture, NFB, Labour Welfare department, Industries, etc.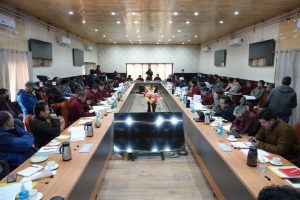 All the Councillors sought answers to their queries during the question hour to the concerned district officers with the remarks from the Executive Councillors holding different portfolios. Taking note of issues and queries, the concerned Executive Councillors assured to address the issues on a priority basis. Taking serious note of the major setbacks, CEC Tashi Gyalson directed the concerned executing agencies of the PWD and RDD to strictly monitor the project works carried out by the contractors and initiate strict actions against the defaulting contractors.
During the session, special appreciation was also accorded to the School Education, Higher Education, Youth Services and Sports, and various other departments for their achievements and growth. Dy Chairman/EC Education mentioned the recent National Science Seminar winner, Disket Angmo of GHSS Saspol, and the efforts of her supporters at the school and within the department. Also, the house appreciated the Principal, staff, and students of GDC Khaltse and GDC Nubra for their excellent performances in various sectors thus, laying a good foundation for the newly set-up colleges in the Leh district.
As informed by the Honb'le Chairman during the meeting, a special session would be conducted soon to discuss the need for constitutional safeguards in Ladakh.
CEC Tashi Gyalson, in his concluding note, extended his gratitude to all the Councillors for their active participation during the day-long General Council Review Meeting. He thanked all the district officers led by DC/CEO LAHDC Leh, Shrikant Suse, for actively participating in the discussion and reviewing the status of work progress during the General Council Meeting.