PM Narendra Modi lays foundation stone of 1st Green Hydrogen Mobility Project of India , Leh Ladakh
PM also launches National Solar rooftop portal
Leh, 30 July: Participating in the Grand Finale marking the culmination of 'Ujjwal Bharat Ujjwal Bhavishya – Power @2047' through a video conferencing today, Prime Minister Narendra Modi launched the Revamped Distribution Sector Scheme along with dedicating and laying the foundation stone of various green energy projects of NTPC, including NTPC's Green Hydrogen Mobility Pilot Project in Leh. He also launched the National Solar rooftop portal.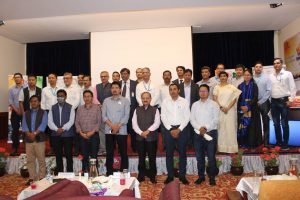 n
The event was conducted online in the presence of Union Minister of Power, New and Renewable Energy, R. K Singh; Minister of State for Power and Heavy Industries, Krishna Pal Gurjar.
Lieutenant Governor of Ladakh, R K Mathur; Chairman/CEC, LAHDC, Leh, Tashi Gyalson and Member of Parliament, Ladakh, Jamyang Tsering Namgyal; Executive Councillors Tashi Yakzee and Stanzin Chosphel; Principal Secretary, UT Ladakh, Dr Pawan Kotwal; Secretary, Tourism, Kacho Mehboob Ali Khan; Secretary, Power Development Department, Ravinder Kumar; Deputy Commissioner, Leh, Shrikant Susu and concerned officers from PDD and NTPC participated in the grand finale of Bijli Mahotsav from UT Ladakh.
During the programme, the Prime Minister Narendra Modi launched Power Ministry's flagship Revamped Distribution Sector Scheme, which is aimed at improving the operational efficiencies and financial sustainability of the DISCOMs and Power Departments.
Prime Minister laid the foundation stone of Green Hydrogen Mobility Project in Leh which is a pilot project and aims for five Fuel Cell Buses to be run in and around Leh. This pilot project would be the first deployment of Fuel Cell Electric Vehicles for public use in India.
On the occasion, Prime Minister also launched national solar rooftop portal, which would enable online tracking of the process of installation of rooftop solar plants, starting from registering the applications to release of subsidy in residential consumers' bank accounts after installation and inspection of the plant.
Earlier, the Prime Minister interacted with the beneficiaries of various schemes including Pradhan Mantri Sahaj Bijli Har Ghar Yojana – Saubhagya run by the Ministry of Power. He mentioned that India of today is not only a power surplus country but is also exporting electricity. He said, the energy and power sector have a huge role to play in accelerating India's progress in the next 25 years.
Speaking on the occasion of grand finale celebration of Bijli Mahotsav in Leh, Chairman/ CEC LAHDC Leh, Adv Tashi Gyalson expressed gratitude to PM Modi for laying foundation stone of NTPC's Green Hydrogen Mobility Pilot Project and also congratulated NTPC for fulfilling time-bound initiation of the green mobility project. He highlighted the various green energy initiatives signed with different agencies, such as ONGC and SECI. He shared that these projects would greatly benefit Ladakh in achieving a net zero emission and carbon neutrality charting a course of sustainable development with environmental sensitivity.
MP Ladakh added that under the leadership of the Prime Minister, the government has taken multiple path-breaking initiatives in the power sector. He hoped that in Ladakh no house would be left without electricity by 2024. He further added that these projects would not only pave way for Ladakh's decarbonisation goals but it would also bring a new hope for emerging as self- sufficient power sector accomplishing the target of Carbon Neutral Ladakh as envisioned by PM Modi.
Secretary Power, Ravinder Kumar informed about the various developmental schemes and projects. He said that the Green Hydrogen Project is a proud and momentous project for Ladakh. He appreciated the contribution of Hill Council, Leh, MP Ladakh and DC Leh and Kargil for their efforts and constant support.
In the UT of Ladakh, under Revamped Distribution Sector Scheme (RDSS), projects of Total DPR Cost of Rs. 1172.12 Cr. has been proposed under which Rs 144.60 Cr. is proposed for loss reduction works, Rs 627.64 Cr. has been proposed for electrification of Changthang Region, Rs 58.50 Cr. has been proposed for works in Zanskar Region. In Modernization / System Strengthening component works worth Rs 341.47 Cr. has been proposed in the UT of Ladakh. UT Ladakh envisages to gradually reduce the AT&C losses from 48.17% in the base year 2020-21 to 27.85% by 2024-25.
'Ujjwal Bharat Ujjwal Bhavishya – Power @2047' is taking place from July 25th to 30th, as part of ongoing 'Azadi Ka Amrit Mahotsav'. Organised across the country, it showcases the transformation in the power sector achieved in the last eight years. It aims to empower citizens by improving their awareness and participation in various power related initiatives, schemes and programmes of government.
The UT of Ladakh also feverously took part in this celebration, and accordingly District Level celebration of Bijli Mahotsav were held on 25th July at Kaya village and 26th July at Mudh Nyoma village in Leh District and 27th July at Silmo Batalik and 29th July at Drass in Kargil District.