Post snowfall: Restoration of essential services by Administration underway in Kargil
KARGIL, OCTOBER 24, 2021: Measures for restoration of essential services are being taken by the District Administration Kargil in full swing in the wake of the fresh untimely snowfall which has affected normal life.
Deputy Commissioner and CEO,LAHDC, Kargil Santosh Sukhadeve has instructed all the SDMs, Tehsildars and district officers to furnish the primary damage report to the government and private infrastructure due to the ongoing snowfall situation besides also to update the status report of essential services viz; road connectivity, electricity, water supply etc.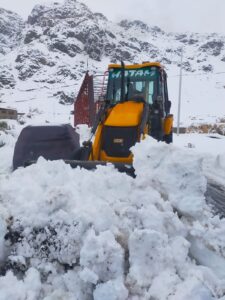 As per the latest reports the restoration of power supply lines by PDD Department is going on at different locations in Drass, Sankoo, Minjee, Trespone and other areas while machines of the Mechanical Division are carrying out the road clearance works at Drass, Lotsum,Tacha, Handurman, Choskore and other areas.
The Executive Engineer PDD Kargil Altaf Hussain informed that while 50% power supply has been fully/partially restored in Kargil Town, the remaining feeders are expected to be restored by today evening.
As per other areas of the district, the Executive Engineer said that restoration of power supply is presently going on in mission mode and complete power supply network in the district will be restored in 5 to 6 days.
Meanwhile, the road stretch on NH-01 from Wakha to Khangral has been connected by BRO and traffic on the road is plying normally.
The Deputy Commissioner has directed the concerned officers to ensure the restoration of essential services in their juridisdictions immediately by deploying men and machinery besides to personally monitor the field functionaries so that the people don't face any inconvenience during winters. He has impressed upon the officers to be proactive and ensure that every possible facility is provided to the masses.