Principal Secretary, PD & MD, Ladakh convenes meeting to review progress of implementation of DBT schemes
Leh, January 13: Principal Secretary, PD&MD, Ladakh, Dr Pawan Kotwal convened a meeting to review the progress of implementation of Direct Benefit Transfer (DBT) schemes and status of uploading the data for the financial year 2021-22 and 2022-23 on the DBT Bharat portal by the concerned departments. With DBT programme, GoI aims to make payments directly into the Aadhaar-linked bank accounts of the end beneficiaries, removing any malpractices from the existing system such as diversions and duplicate payments.
At the outset of the meeting, the concerned officials apprised the Principal Secretary, Dr Kotwal of the status of schemes of various departments to be uploaded on the portal.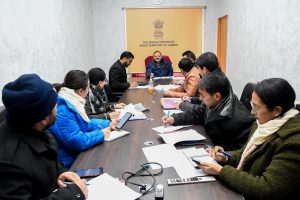 Principal Secretary, Dr Kotwal exhorted that the ongoing schemes must be notified irrespective of the number of beneficiaries. He added that the requisite publicity must be done for the schemes for the awareness and information of the public. He further instructed for the issuance of notification of UT DBT schemes under section 7 of Aadhaar Act 2016 and added that all notifications must be bilingual. The Draft for UT DBT schemes has to be vetted by Law Department as soon as possible for further process, he added.
Further, Principal Secretary, Dr Kotwal instructed the DCs Leh and Kargil to get the drafts of council schemes vetted by respective Administrative Secretaries. The Principal Secretary fixed 17th January as the last date for submitting the drafts of the pending UT level and Council level Schemes to the Law Dept for vetting for the Adm Secy's and the DC/ CEO of the LAHDCs. So that the approval of the competent authority could be obtained and the individual Schemes notifications be published on e-gazette of Ladakh by 20th January – well before the Republic Day 2023.
The meeting was attended by Administrative Secretaries; DC, Leh, Shrikant Suse; Deputy Director, PD & MD, Konchok Gyalson and other concerned officials.