Program on "Good Governance Week", gender equality held at Shargole
Kargil, Dec 19, 2022:
Rural Development and Panchayat Raj Department Kargil today organized a program on "Good Governance Week" under the theme "Sushasan Sapta-Prashan Gaon Ki Aur" and a Gender Equality program under NRLM at Higher Secondary School, Shargole.
ACD Kargil Ghulam Mohd, Block Development Officer, Shargole, Dr Mehdi Khan, representative of Special Cell for Women, Haseena Batool, One Stop Centre Administrative, Ummul Banin Sarpanch, Panches, ASHA worker, Anganwadi workers, Ama Tsoqspa, villagers were present on the occasion.
In his address, the ACD highlighted the good governance initiative conducted through District Administration and UT Administration Ladakh. He informed the villagers about various welfare schemes of RD&PRD.
The ACD spoke about various schemes like MGNREGA, PMAY, NRLM, Formation of Self Help Groups, Aadhaar seeding etc. and urged villagers to take the privilege of such departmental schemes. He also highlighted gender-based violence and discussed social and economic issues faced by women.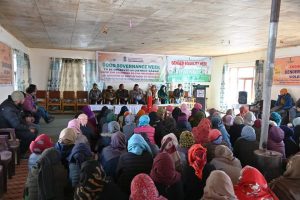 Hasina Batool from Special Cell for Women gave awareness to participants about various forms of gender discrimination and how it creates inequality among boys and girls.
The participants were given awareness about different forms of violence like physical, mental, economic abuse and verbal abuse and how it affects the health of women.
Hasina also shared some case studies with the participants and also highlighted the services being provided at special cell for women.
One Stop Centre Administrator Umul Banin briefed the participants about women's shelter and its services. She also threw light on the importance of such awareness programs. An Aadhaar seeding camp was also held in which villagers got the benefit.