Promoting Local Culture, Fauna, and Products: Ladakh Celebrates Investiture Ceremony
Leh, Jan 20: Ladakh celebrated its first Investiture Ceremony, recognizing 26 individuals and institutions for their outstanding contributions in various fields. The award ceremony, pioneered by Commissioner/ Secretary, Ajeet Kumar Sahu, featured a 28gms gold medal of 18 carats, a cash prize of Rs.51,000/-, a citation, and a handmade, white Pashmina shawl curated by JD Handloom Ladakh, Lakshya Singhal.
The Pashmina shawl, produced by the Handloom Department, Ladakh, is a symbol of the region's natural beauty and the Changthang plains that produce the finest Pashmina in the world. Each shawl was made by a group of 10 women trainees under the supervision of instructor Rigzin Wangmo and took approximately 15 days to complete. The shawls feature an infinity knot motif designed in-house by the Department, which represents the local culture and artisanal skills.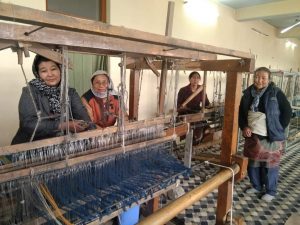 In addition to the awards, the ceremony also promoted local food items such as barley, buckwheat, and sea buckthorn. The gold medal was minted at The India Government Mint Mumbai and features the National Emblem on the front and the Black Necked Crane (the state bird of Ladakh) and the awardee's name and field of contribution on the back. The medal is suspended from a ribbon representing the three colors of the Indian flag, representing the local fauna.
The event was also used as a platform to promote local culture and products besides honouring local talent.