Ravinder Kumar tours to Kargil, inaugurates trout fish farm constructed under PMMSY
Fish entrepreneurs are promoted under Pradhan Mantri Matsaya Sampada Youjana (PMMSY) in Kargil
Kargil, Nov 18, 2022: Secretary Animal/Sheep Husbandry and Fisheries UT Ladakh, Ravinder Kumar during his extensive tour of Kargil commencing from November 17 today inaugurated Private Trout Fish Farm at Andoo Kargil constructed by Sajad Hussain under Pradhan Mantri Matsaya Sampada Youjana (PMMSY)
While expressing satisfaction over the work executed by the farmer and functioning of the fish farm secretary has assured that all out efforts shall be made to transform rural poverty to prosperity through fisheries and aquaculture development.
Assistant Director Fisheries Kargil Murtaza Ali informed that the fish farm was constructed under PMMSY, a centrally sponsored scheme during the year 2022.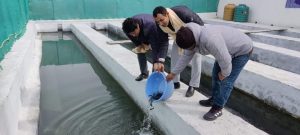 He said that 9000 Rainbow Trout fingerlings have been stocked during the current financial year and it is estimated that the said fish farm would have fish production capacity of 2 ton per one culture period extending from 12-18 months.
The secretary has also said that Fishery based eco-tourism is emerging as one of the areas for the educated unemployed youth and farmer develop entrepreneurship which would generate employment avenues among unemployed youth of the district.
He also stressed that fish farms shall be converted into a multi-dimensional venture with the beautification of landscape, addition of recreational infrastructures of aquariums and angling facilities beside routine annual production of fish.
The inauguration event was also attended by the PRI members of the village and has expressed their gratitude to the secretary for extending financial assistance under the centrally sponsored scheme of PMMSY.