2-week Training and Orientation Programme for newly appointed employees of UT Ladakh concludes in Kargil
Kargil, Nov 18, 2022:
Two-week Training and Orientation Programme for the newly appointed employees of UT Ladakh of Kargil District in collaboration with the Institute of Secretariat Training and Management (ISTM) concluded today at Conference Hall, Kargil.
During the felicitation ceremony, Deputy Commissioner/CEO, LAHDC, Santosh Sukhadeve was the chief guest besides Additional Deputy Commissioner (ADC) Kargil and Nodal Officer of the event Ghulam Mohi-ud-Din Wani, Assistant Commissioner Development (ACD) Rural Development Department and Panchayati Raj Kargil Ghulam Mohammad, Headquarter Assistant to DC Kargil Arifa Iqbal Lone, Block Development Officer (BDO) Taisuru, Yasir Hussain Wani, BDO Kargil, Samina Khatoon, Inspector Ladakh Police Inayatollah, Trainers from ISTM Parth Vasania and Ashok Kumar Batra, trainees from RDD and Ladakh Police and concerned officers were present during the event.
Addressing the trainees, DC Santosh congratulated the newly appointed employees for joining Government Services and said that after the formation of UT Ladakh, the administration has been very keen for the training and skilling of the employees.
Reflecting his views on the training program, the DC said the ISTM has been a successful training partner with the UT Administration and expressed satisfaction over the training process and modules taught to the trainees.
DC Kargil asserted that government employees should get acquainted with the service rules in the beginning for their career progress.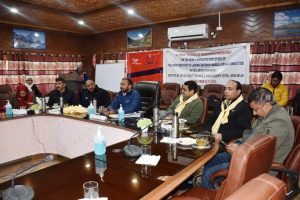 DC Santosh advised the trainees to be passionate, sensitive and humble towards the general public adding they are face of the administration. He expressed optimism that they all progress in their career.
ADC Ghulam Mohi-ud-Din Wani congratulated the newly joined employees for getting enrolled in government services and advised them to understand the nature of their job, be responsible and work with dedication and honesty.
During the facilitation ceremony, Nasir Mir and Stanzin Skalzing, Accounts Assistants from RDD and Zakiya Bano from Ladakh Police shared their views about the program. They called it a success and expressed gratitude to the UT and District Administration Kargil.
Later, the trainees from ISTM New Delhi were felicitated by the dignitaries and participation certificates were also distributed amongst the trainees.
BDO Taisuru, Yasir Hussain Wani presented vote of thanks and extended gratitude to all the concerned departments, trainers and trainees for making the programme successful.
BDO Kargil, Samina Khatoon conducted the whole proceedings of the event.
Pertinently the topics and modules that were taught during the training included practical exercise on noting drafting skills & forms of communication, practical exercise on drafting, RTI, eOffice, departmental security instructions, handling public grievances etc.