School safety program held at GGHS GM Pore
KARGIL, August 24, 2022: The 13th Bn NDRF under the direction of Commandant Uttam Chand, Commandant 13th Bn NDRF today organized a school safety program in collaboration with District Administration Kargil at GGHS GM Pore, Kargil.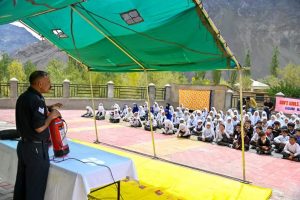 The aim of the school safety program was to train all teaching, non-teaching staff and students of the school about how to tackle any type of disaster like earthquake, landslide, flash flood, fire and how to give pre-hospital treatment etc.
Team of 13th Bn NDRF under supervision of Assistant commandant Kh Ranajit Singh, Naib Tehsildar (Magistrate 1st class) Mohd Hassan/Reader to DC Kargil, Principal GGHS GM Pore Ali Rehmat, teaching, non-teaching staff and students attended the training program.