Leh, Aug 24
The Chairman/CEC, LAHDC Leh, Adv. Tashi Gyalson attended the inauguration ceremony of Apricot Processing Plant at the Centre of Excellence of Horticulture Department, Leh at Nyemo today.
The plant was inaugurated by LG Ladakh in the Presence of CEC LAHDC Leh, MP Ladakh, Executive Councillors & Councillors of LAHDC Leh, Advisor to LG, BDC Chairperson Nyemo and the officials of Horticulture Department, DRDO Leh and several other research institutes of Leh.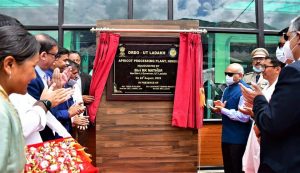 The Apricot Processing Plant is equipped with sorting and grading line, pre-processing line for fresh fruit, dehydration and vacuum drying of fruit, pulp/puree/jam/ready-to-serve (RTS) beverage line, fruit canning line, apricot seed extraction line, cold room, blow molding machine, diesel generator, effluent treatment plant, boiler and water purification system, etc.
The Plant is aimed at reducing fruit wastage, improving value addition, promoting crop diversification, ensuring a better return to the farmers, promoting employment and increasing export earnings.