SDM Drass holds meeting regarding Har Gar Tiranga
KARGIL, AUGUST 05, 2022: Sub Divisional Magistrate Drass today held a meeting with Lambardars of the subdivision regarding the Har Gar Tiranga campaign.
The meeting was held at conference hall Dak Bangalow and it discussed the hoisting of flags at each house of the subdivision. The meeting was attended by all Lambardars.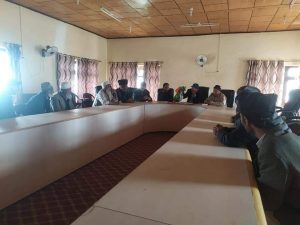 While addressing the Lambardars, Block Development Officer Drass, gave a detailed meeting about the program and urged all to hoist the national flag from August 13 to 15.
The BDO also said that flags will be issued to each household by the Rural Development and Panchayat Raj Department (RD&PRD) at a nominal price of Rs 40.
SHO Drass said that hoisting of the national flag at the houses is the loyalty to the nation and it is a symbol of pride for every Indian and represents national integrity.
Har Ghar Tiranga is a campaign under the aegis of Azadi Ka Amrit Mahotsav to encourage people to bring the Tiranga home and to hoist it to mark the 75th year of India's independence.