ADC Kargil convenes meeting with representatives of religious organizations, district officers for preparations of 9, 10 Muharram
KARGIL, AUGUST 05, 2022:
ADC Kargil Ghulam Mohi-ud-Din Wani today convened a meeting with representatives of religious organizations Jamiatul Ulema Isna Ashariya Kargil (JUIAK), Islamia School Kargil and Imam Khomeini Memorial Trust (IKMT) and concerned district officers regarding the observance of 9th and 10th Muharram processions.
Additional SP Kargil Iftikhar Choudhary, ACR Kargil A G Zargar, Nodal Officers of Muharram arrangements including Chief Controller Finance, CMO Kargil, Chief Agriculture Officer, Dy Sp. Headquarter Kargil, Deputy Registrar Cooperatives, Tehsildar Shargole, representatives of JUIAK, IKMT and concerned officers attended the meeting.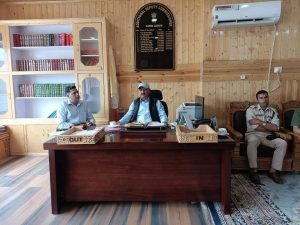 The ADC said volunteers of religious organizations will make sure timely conduct of processions from the important squares and junctions of the town and will terminate at the assigned timelines. He further requested that village processions should reach by time inside the town to avoid further delay.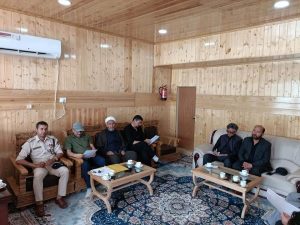 The PHE, Health and PDD, and DIPR were directed to ensure arrangements for adequate drinking water, health care, uninterrupted power supply and PA system, respectively.
The ADC assured the establishment of medical camps, buses for adjacent villages, traffic management. He said all measures will be taken so that processions are held smoothly.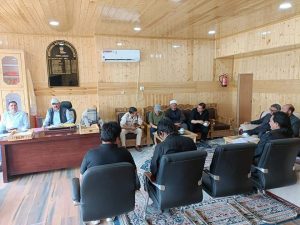 The ADC also instructed the concerned officers to ensure proper cleanliness in and around JUIAK and IKMT premises, Hussaini Park, Qatilgah and all Imam Baras.
The ADC asked the religious organizations to coordinate with the Liaison Officers nominated by the District Administration for any issue related to arrangements for smooth conduct of mourning processions.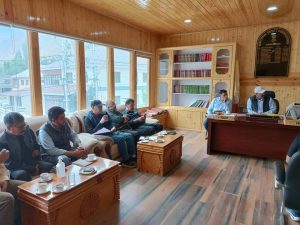 He also called for close coordination between religious organizations and concerned departments to ensure all possible services during the observance of processions.
The representatives from JUIAK and IKMT assured of all support and demanded for establishment of PA system and medical camps in the mentioned places where congregations and processions will be held.