SDM takes stock of status of educational activities of schools in Sankoo
Stresses for conduct of extra classes to compensate losses due to COVID-19
KARGIL, OCTOBER 13, 2021: Sub Divisional Magistrate (SDM) Sankoo Ghulam Mohiuddin Wani today convened a meeting of the concerned officers of Education Department to discuss the status of academic activities in various schools in the sub division.
Deputy Chief Education Officer Sankoo, Zonal Education Officers, Principals, Headmasters besides other concerned officers were present during the meeting.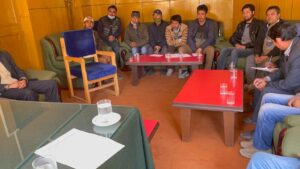 While inquiring from the officers about the status of educational activities in various schools, the SDM stressed to ensure the  conduct of extra classes for the students to compensate the losses due the COVID-19 pandemic.
The SDM also instructed the officers concerned to conduct regular classes besides to monitor and keep check on the attendance of the teaching staff as well as students so that classes are run in a befitting manner.