KVK Kargil-1 organizes national swachhta campaign on the theme Waste to Wealth
KARGIL, OCTOBER 13, 2O21: Krishi Vigyan Kendra (KVK) Kargil-1 organized national swachhta campaign on the theme Waste to Wealth here on Tuesday.
Executive Councillor for Agriculture Mohsin Ali was the chief guest during the day-long programme while the In Charge Principal Government Degree College (GDC) Kargil was the guest of honour on the occasion.
A good number of farmers besides students of GDC Kargil attended the programme.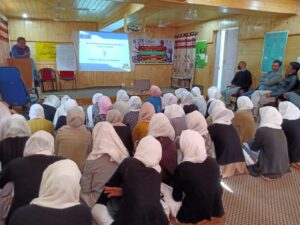 The programme featured demonstration of waste to wealth conversion technologies through models, exhibits, samples and hands-on techniques during which various models depicting vermi-composting,  composting, organic toiletry, integrated farming, biofertilizers and waste decomposer etc. were demonstrated to the participants.
The participants were also provided hands-on training on preparation of human hair bio-fertilization and other agriculturally important biofertilizers like Rhizobium, Azatobacter, Azospirillium and PSB while  literature on EKCEL-decomposer capsule and in-situ decomposition technology for rice-wheat residues were also distributed among the participants.
The posters of this literature were also prepared for presentation to the farmers and students.
EC Mohsin Ali in his address while stressing the necessity of waste management congratulated the KVK-1 for organizing such an important programme under the much related and needful theme.
The EC was highly impressed by the organic toilet model and human hair biofertilization technique as proposed by the KVK-1, and underlined their ample use in the region for conversion of human waste into valuable products. He stated that population explosion demands efficient disposal of waste to maintain the ecological fragility of the region and further lauded the techniques of KVK-1.
EC Mohsin assured that the LAHDC Kargil will extend all out support to the people for taking up and promoting these techniques. He urged KVK-1 to organize similar events in future.
Power-point presentations and lectures were given to the participants on family net vessel compost, farm waste composting and other methods of waste management, recycling and re-use besides farm visit and live technological demonstrations, especially of vermi-composting were also demonstrated.
Principal Scientist and Head, KVK-1 Kargil Dr Ghulam Mehdi in his address explained about the importance of technologies which can be easily harnessed at the local level for efficient waste to wealth conversion and entrepreneurship development in near future.
Dr Imtiyaz Hussain from GDC Kargil thanked the organizers for such a knowledgable and practical programme and stated that it was highly beneficial for  students.
Scientist AS, KVK Kargil-1 Dr Syed Muhammad Shah explained the importance and necessity of waste management and recycling through power point presentation.
Meanwhile, interaction of the participants with scientists on waste to wealth conversion techniques in the context of  Kargil region was also held on the occasion.