Secretary Social & Tribal Welfare Department Padma Angmo visits PAGIR; discusses strategies for capacity building
Leh, Nov 14: Commissioner/Secretary Social Affairs, UT Ladakh Padma Angmo, along with District Social Welfare Officer Nilza Angmo today visited the People's Action Group of Inclusion and Rights (PAGIR) campus on Saboo road to discuss strategies for building the capacity of the organization related to skilling and access to a wider market for products of PAGIR.
Secretary Padma was accompanied by a representative from Industries Department, who observed that with assistance, mainly in designing and better finishing, PAGIR's products can find their way to a wider market.
Tsewang Dorjey, President of PAGIR informed the Commissioner/Secretary about their process of raw material collection, primarily scrap fabric and paper to make an array of products, including hand-made paper. Dorjey, during the visit, requested the Commissioner/Secretary for assistance in availing government funding. Padma Angmo asked District Social Welfare Officer Nilza Angmo to explain ways to attract volunteers to assist the organization.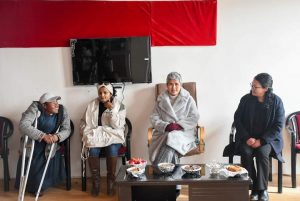 Commissioner/Secretary Padma discussed the possibility of developing a line of products used in offices such as files/folders, hand-made paper invitation cards, etc and encouraging government offices to supply their paper waste to PAGIR. Imparting relevant training to the staff, exhibiting the products on national platforms, etc, were stressed by the Commissioner/Secretary.
Later, Commissioner/Secretary Padma Angmo visited their paper-making unit, sewing unit, and the under-construction hostel.