Social & Tribal Welfare Department visits remote villages of Ladakh under Azadi Ka Amrit Mahotsav
KARGIL, AUGUST 05, 2022:
One-day awareness camps are being organized by the Department of Social & Tribal Welfare in various Gram Panchayats of Leh and Kargil to take the vision of Lieutenant Governor, Union Territory of Ladakh to increase accessibility of administrative services in remote areas of Ladakh given the vast geographical area.
Starting from July 27, teams of ICDS Projects and Social Welfare Department were supposed to visit remote Gram Panchayats of Ladakh every Wednesday and spread awareness about various social sector schemes in collaboration with the Health Department and Rural Development and Panchayat Raj Department.
This week, these camps were held under the banner of Azadi Ka Amrit Mahotsav and as a precursor to the Har Ghar Tiranga celebrations, organized in remote border villages of Ladakh.
Members of Panchayati Raj institutions (Sarpanch and Panch) and Village Numberdars as well as Ama Tsogspa (women's alliances) were actively involved in the entire exercise.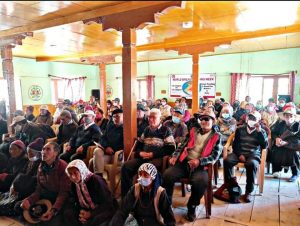 The local populace was invited to participate in the camps and interact with the organizers and officials. It is indeed a matter of delight and pride that villagers are showing immense enthusiasm for attending the camps. On August 03, the camps were held at Kaksar,Shargole & Karamba, Goshan, Matayen & Pandrass, Langkartchey & Faruna, Purtiktchey, Hagnis, Turtuk, Nyoma, Liker & Ney, Sakti and Hanu & Chusul.
The visiting teams were led by Child Development Project Officers and District Social Welfare Officers of both Districts and officials of Child Development Protection Units while the dedicated Anganwadi Workers, Anganwadi Helpers, Health Workers (ANM and ASHA) and Village Level Workers extended ample support.
Doctors and officials of Education Department were also present at some camps. They spread awareness among the rural populace about various provisions of Integrated Child Development Scheme, Mission Vatsalya, National Nutrition Mission, Mission Shakti, Poshan Abhiyan, Pradhan Mantri Mathu Vandana Yojana (PMMVY) various pension schemes of the Government of India as well as the UT Administration of Ladakh.
Besides urging people to get the Aadhar cards made for their kids in the 0-5 age group and to update data on Poshan Tracker, awareness was given about signs and symptoms of Severe Acute Malnutrition (SAM) and Moderate Acute Malnutrition (MAM) among children as well as their preventive measures.
Lessons were also imparted regarding the importance of balanced diet during pregnancy etc. Further, attempts were made to ensure that not a single beneficiary should be deprived of ICDS and Social Welfare schemes.
The primary aim of these camps is "to include the left-outs." During the Camps in Kargil and Leh, nearly one hundred and eighty-two (182) left-out beneficiaries were identified for granting benefits under PMMVY, National Social Assistance Programme (NSAP), Integrated Social Assistance Programme (ISAP), State Marriage Assistance Programme (SMAS), National Family Benefit Scheme (NFBS) and Prosthetic Aid (Assistive Items). The registration process in respect of these left-out beneficiaries has started.
On July 27, 2022, the camps were organized at Bartchey, Pashkum A & B, Thangdumbur & Nangma Kusar, Namsuru, Padum, Tigger, Kungyam, Chhushot Yoqma, Egoo, Saspol and Shachukul. The camps shall be organized every Wednesday till November 30, 2022, as per the instructions issued by the Directorate of Social Welfare & Tribal Welfare.