SVEEP awareness program for Special Summary Revision held at GHSS Shargole
KARGIL, NOV 07, 2022:
Systematic Voters Education and Electoral Participation (SVEEP) awareness program for Special Summary Revision (SSR) of Photo Electoral Roll w.r.t. 01/01/2023 and a sensitization program organized by District SVEEP Team Kargil was held today at Govt. Higher Secondary School (GHSS) Shargole.
BDC Shargole, Tehsildar/AERO Shargole Mohd Salim Wazir, Principal Govt. Higher Secondary School Shargole Eshey Namgial, District SVEEP Nodal Office Ghulam Rasool, public representatives, young prospective voters, staff of GHSS Shargole, Sarpanchs, Panchs, Supervisors, BLOs and students of GHSS Shargole attended the program.
Speaking on the occasion, the Tehsildar/AERO stressed on awareness and said that youth should learn how to cast their vote for the right candidate.
While interacting with the students of GHSS, he further stressed that each student must become an aware voter. He further advised the BLO's to do the necessary steps to register each and every participant who is becoming eligible. He thanked District SVEEP Team for organizing such an awareness-cum-sensitisation program.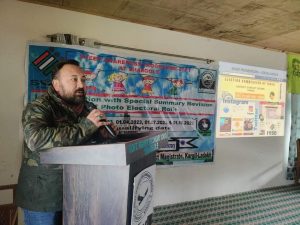 District SVEEP Nodal Officer Ghulam Rasool while speaking on the occasion said that youth are the backbone of democracy and everyone must be aware of their role in a democratic setup. He also briefed about various SVEEP activities in the district.
Principal Higher Secondary School Shargole Eshey Namgial also stressed on the importance of prospective voters and youth in a democratic setup. He urged students to get registered if they are becoming eligible according to the qualifying dates.
Earlier, in his welcome speech, District SVEEP Core Member Anwar Hussain welcomed all the participants and briefed them about theme of the awareness program.
While briefing about the eligibility criteria for voting, he said every person who is turning 18 years old or above up to January 01, 2023, or April 01, 2023, or July 01, 2023, or October 01, 2023, can register from November 09 to December 12, 2022.
During the awareness program, core member Bashir Hussain presented a detailed presentation on the initiatives taken by the District SVEEP team in sensitizing the general public especially prospective voters in the district.
Later, senior BLO Fida Hussain briefed about two ways of filling forms online and offline. He further requested every participant to contact their respective BLOs for registration and to cooperate with them. The program concluded with vote of thanks by Bashir Hussain Core Member of the district SVEEP team.