EC Tashi reviews work progress under Capex, State Sector, SDP
KARGIL, NOV 07, 2022:
Executive Councilor Tourism, RD and Zanskar Affairs, LAHDC, Kargil, Er. Punchok Tashi today chaired a review meeting at Council Secretariat regarding physical and financial progress of district Capex, State Sector, SDP and other developmental works across the district under KDA, ZDA and Rural Development Department.
The meeting was attended by ACR A G Zarger, ACD Ghulam Muhammad, Executive Engineer KDA Murup Dorjey, Executive Engineer ZDA Sajjad Hussain and Assistant Executive Engineer KDA Muhammad Sidiq.
During the meeting, threadbare discussions and deliberations were followed regarding the achievement under different sectors.
EC Tashi was informed that under District Capex, the total outlay of 52 ongoing developmental works for 2022-23 is Rs 1229.97 lakhs and the total incurred expenditure is Rs 479.24 lakhs and for new 14 developmental works, the approved outlay is Rs 174 lakhs.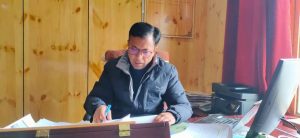 Further, under SDP sector, out of the released amount of Rs 5493 lakhs, Rs 985 lakhs has been incurred expenditure and under State Sector, out of the released amount of Rs 2001.73 lakhs, Rs 426.03 has been incurred expenditure.
The EC said under the supervision of ACD Kargil, the department of Rural Development Department Kargil is doing tremendous work which is visible across the district.
Tashi further called for close coordination among all the concerned departments with the executing agencies. He also stressed on achieving maximum expenditure in all sectors and ensure quality works.
Earlier, the EC took a detailed assessment regarding various works undergoing in the district such as construction of Hall of Fame to House War Memorial at Kargil Phase-I, providing/fixing signage at various tourist locations and heritage sites, construction of children park at Drass, Panikhar etc.
The works also include construction of Labour Sarai, residential quarters for staff and guest houses, construction of viewpoint at Samarla, War Memorial at Batalik, construction of community hall at Chubar, Taisuru and other Works at different locations of the district.