SVEEP training program for Special Summary Revision held in Zanskar
Kargil, October 27, 2022:
District Election Officer Kargil today organized a training program for BLOS, Lambardar, Sarpanches and Panches of Zanskar subdivision on Systematic Voters Education and Electoral Participation (SVEEP) for Special Summary Revision (SSR) of Photo Electoral Rolls today at Govt. Model Degree College Zanskar.
The program was chaired by AERO Zanskar Talib Hussain as chief guest, Nasir Shabani principal GMDC Zanskar as Guest of honour, Gyaltsan Assistant Professor as special Guest and SVEEP Coordinator Lobzang Tundup on the occasion.
While referring to BLOS, the AERO instructed them to take their responsibilities and stressed on teamwork in order to make the electoral draft roll error-free and successful. The training program was attended by BLOS, Lambardars, Sarpanches and Panches.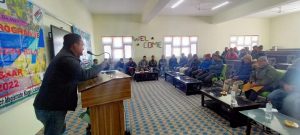 While talking about the importance of the training program, he said BLOS are working at the grassroots level of democracy. The training program was aimed to train the BLOS.
Trainers from SVEEP Team gave a detailed presentation about the SSR and how to fill forms 6, 6A, 7, 7A and form 8 of electoral process.
As part of the program, the guest of honor and special guest shared their knowledge and experience with the participants regarding greater participation for stronger democracy.
Trainers gave them full details about the electoral rolls like types of electoral roll, draft roll and final roll. Trainers gave satisfactory answers to questions and queries raised by the participants.