Swachh Bharat Mission Grameen: RD&PRD organizes IEC, behaviour change communication regarding solid waste management at Taikat, Bartoo.
Kargil, May 08, 2023: Rural Development and Panchayat Raj Department (RD&PRD), Kargil under Swachh Bharat Mission Gramin today organized Information Education and Communication (IEC) and behaviour change communication program at Panchayat Ghar Taikat and Bartoo of Barsoo Block.
Due to heavy snowfall in Barsoo, the cleanliness drives in both villages was postponed and the same will be conducted in near future subject to fair weather conditions. Despite bad weather, a sensitization program regarding solid and liquid waste management under Swachh Bharat Mission Grameen was held at Taikat and Bartoo.
As the segregation shed of Taikat has been completed last year with all equipment and waste pickup truck. In view of this door-to-door collection of waste will be started in Bartoo and Taikat after the complete distribution of dustbins.
Similarly, the collection of waste will be started in other panchayats in a phased manner.
District Panchayat Officer Kargil (DPO), Padma Angmo, BDC Barsoo Hajira Bano, BDO Barsoo Asger Ali, officers/officials, Sarpanchs, Panchs and villagers attended the program.
The DPO Kargil in her address sensitized the villagers about the role of primary segregators/households in solid and liquid waste management. She instructed the villagers not to mix the dry and liquid waste so that secondary segregation becomes easy.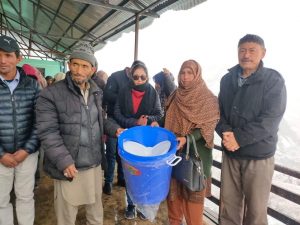 The DPO talked about the objective of Swachh Bharat Mission Gramin and sought the cooperation and support of villagers in making the village surroundings hygienic. She said with the support of general public, the department shall achieve ODF plus targets by end of this year.
BDC Barsoo, Hajira Bano explained dry and wet waste and its separation at primary level. She said it is the responsibility of every citizen to clean the surroundings and maintain the environment.
The BDC thanked the RD&PRD, Kargil for organizing the awareness program adding that the program helped to spread awareness among people regarding solid and liquid waste management.
The BDO Barsoo elaborated about the need to adopt a system of periodical cleanings, maintenance and initiation of preventive measures for containing diseases.
The BDO detailed about the importance of cleanliness, personal hygiene and maintenance of hygienic conditions in their respective areas.
He also talked about difference between solid and liquid waste and the segregation process thereof. He instructed the villagers to use dustbins for dry waste collection to make environment pollution free.
Earlier, the Panchayat Secretary, Agha Syed Toha also spoke about solid and liquid waste management.