Block Medical Officer Sankoo, Kargil Bids adieu to Kacho Zakir
KARGIL, 8 MAY 2023 : Block Medical officer Community Health Centre Sankoo on Monday organised a function to an affectionate farewell to Kacho Zakir Hussain Khan (PMA) who attained superannuation after rendering long successful year.
A brief function was organized by Block Medical officer Sankoo at CHC Conference Hall.
On this occasion Block Medical Officer Sankoo, Dr Ghulam Hussain, Dr Nasreen Fatima Gynecologist,Dr Mohammad Hussain Wazir Orthopaedic, Dr Ashiq Hussain Dental Surgeon, Paramedics staff's were also present.
Dr Ghulam Hussain Block Medical officer sankoo wished the retiring official a very healthy and prosperous post retire-ment life.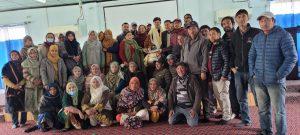 While Speaking Block Medical officer Sankoo, Dr Ghulam Hussain
described Kachoo Zakir Khan (PMA) as an honest and hardworking employee who always did his work diligently.
He lauded the retirees for rendering their valuable and exemplary services at different levels for the Health Department.
Furthermore, he appreciated the services of Kachoo Zakir Hussain (PMA) which he rendered for the department.
The officers and officials of Community Health Centre Sankoo wished the retiring employee a happy and prosperous post-retirement life.