Swachh Bharat Mission Grameen: RD&PRD organizes IEC, behaviour change communication regarding solid waste management in Barsoo Block
Kargil, May 11, 2023: Rural Development and Panchayat Raj Department (RD&PRD), Kargil under Swachh Bharat Mission Gramin on Wednesday organized Information Education and Communication (IEC) and behaviour change communication program at Panchayat Ghar, Bartoo in Barsoo Block.
BDO Barsoo, Asgar Ali, District Coordinator, Mohd Toha Qadire, Sarpanch Bartoo Mohd Ibrahim, Panchayat Secretary, Bartoo Namgyal Wanchol and villagers attended the program.
Over 99 dustbins were distributed in Bartoo, Chiber, Pangber, Shargandi and Khasho villages. More dustbins will be distributed in other villages in a phased manner.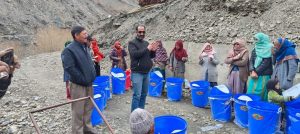 During the program, BDO Barsoo explained about the dry and wet waste and its separation at the primary level. He said it is the responsibility of every citizen to clean the surroundings and maintain the environment.
The BDO also talked about the difference between solid and liquid waste and the segregation process thereof. He instructed the villagers to use dustbins for dry waste collection to make the environment pollution free.
District Coordinator, Solid Waste Management, detailed about the importance of cleanliness, personal hygiene and maintenance of hygienic conditions in their respective areas.