Three days training programme on Implementation of National Quality Assurance Standards (NQAS) organized by National Health Mission, UT Ladakh in collaboration with National Health System Resource Centre (NHSRC) for NQAS, New Delhi from 31st October to 2nd November, 2022 concluded today at Leh.
The Experts invited especially for the Technical Support and Training Program were Dr. J N Srivastava, Advisor- Quality and Patient Safety, NHSRC, Dr. Chinmayee Swain, Senior Consultant QPA, NHSRC and Mr. Anand Yadav, Resource Person, NHSRC.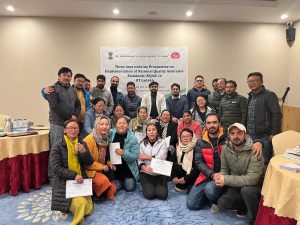 The experts covered topics under the Key Concept of Quality and Introduction to NQAS, Measurement System under NQAS, Area of Concerns, Patient Satisfaction Survey (PSS) with exercises, Medical and Prescription Audit, Procedure and Documentation for Certification besides Eco Friendly Kayakalp, Overview of LaQshya, SUMAN, MusQan Schemes and Quality Improvement Cycle were highlited and discussed during the workshop.
The training programme was especially organized for Block Medical Officers, Medical Officers, Healthcare Providers and District Program Management Units of both the districts of UT Ladakh.
A total number of 27 participants took part in the workshop. A post training evaluation test was taken at the end of session.
Participation Certificates were distributed among participants by Medical Superintendent, SNM, Hospital Leh.