CEC reviews sector-wise action plans for subsidy components 
Leh, Nov 01: Chairman/CEC, Adv. Tashi Gyalson convened a meeting today to review the sector-wise action plans and coverage of the subsidised components and their schemes with the HODs of all the departments.
Executive Councillor for RDD, Tashi Namgyal Yakzee; ADDC Leh, Sonam Norboo; CCF LAHDC Leh, Jigmet Namgyal, and HoDs of different departments attended the meeting.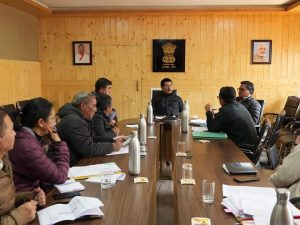 CEC Gyalson directed concerned district officers/officials to monitor and ensure timely execution with 100% expenditure for all schemes under the LAHDC Leh Subsidy component for FY 2022-23.