Tourist movement in border areas to be made smooth, says Secretary, Tourism, Ladakh
Leh, Jan 13: Secretary (Tourism), K. Mehboob Ali Khan chaired a meeting to discuss smooth regulation of tourist flow in border areas and the establishment of civilian/police check posts for proper management and convenience of tourists as well as locals.
The Secretary referring to the meeting which was held under the Chairmanship of DC/CEO, LAHDC, Leh and "minutes of the meeting" dated 12.01.2023 emphasized that proper identification of locations is required where police posts are to be established for the regulation of tourists/visitors. Written communication from 14 Corps is required for all such areas so that the Tourism department can notify these areas as open for domestic tourists without any permission from any authority. This will help tour operators of Ladakh and other places to accept bookings for such places.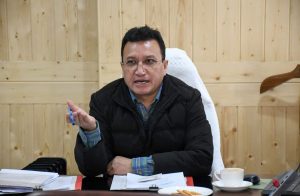 Regarding the locations mentioned in the MoM dated 12.01.2023, 14 Corps and ITBP have no objection and they have assured that free movement shall be allowed in all these areas subject to the establishment of police posts at strategic locations for regulation and safety of tourists/visitors.
In order to regulate around the clock movement of tourists/visitors in these areas, Secretary Kacho issued necessary directions to DC, Leh and SSP, Leh to work on the establishment of Police posts at the identified locations in consultation with 14 Corps/GOC-Leh Sub-area.
Discussions were also held on making Mushkoh valley in the Kargil district accessible to tourists/visitors (up to a predefined location) and that too in a regulated manner. Secretary, Tourism requested 14 Corps to review and communicate their decision at the earliest so that before the onset of the tourism season proper regulatory mechanism is put in place.
DIG, ITBP; DC, Leh; SSP, Leh; Director, Tourism; Lt. Col., GSO-1(INT)A, 14 Corps; SO to ADGP, Ladakh and other officials attended the meeting.