Twinning program held between GHS Kaksar, GHS Baroo
KARGIL, SEPTEMBER 04, 2022:
On the direction of CEO Kargil and under the supervision of Headmaster GHS Kaksar, Akhtar Hussain, a twinning program between GHS Kaksar and GHS Baroo was held on Saturday.
The program was hosted by Kaksar School and attended by staff, and students of Baroo School. The headmaster GHS Kasar and staff members welcomed visitors in a traditional way.
The program started with the recitation of the holy Quran and was followed by various activities performed by the students of both schools.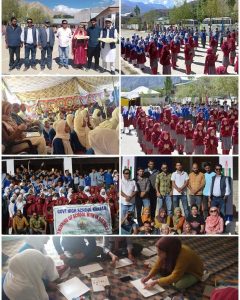 Besides activities, a counselling session on mental health and illness was conducted by S H Shah, a renowned psychologist from district hospital Kargil.
The program concluded with the speech of headmaster Kaksar who advised students to focus on studies and other co-curricular activities.
Mohd Ismail, senior teacher thanked all the staff members and students of both schools for making the event successful.