CEC concludes week-long extensive tour of Nubra-subdivision
Leh, Sep 04: Chairman/CEC, Adv. Tashi Gyalson concluded his week-long extensive tour to the Nubra sub-division yesterday. On the final day, CEC Gyalson held public meetings at Turtuk, Diskit and Khardong villages. He was accompanied by Dy Chairman/Councillor Diskit, Tsering Angchuk, EC Minority/Councillor Turtuk, Ghulam Mehdi, DC Leh, Shrikant Suse, Chairperson BDC Diskit & Turtuk, District officers and sub-divisional officers/officials led by SDM Nubra.
The officials paid visit to PHC Bogdang and Sub-District Hospital at Diskit where they reviewed health infrastructures and also interacted with the healthcare workers.
CEC Gyalson and team also held a civil-army liaison meeting at 102 Infantry Brigade, Partapur. They were received by the Commander, Brigadier Padam Thakur. Both parties deliberated on the need for promoting tourism at zero border Thang and allowing unrestricted movement of tourists at Siachen Base-camp which was opened for tourists last year. Strengthening of Army goodwill schools, uplifting local self-help groups and various issues were discussed. The officials also paid a visit to the ongoing Kisan Mela at DIHAR's centre in Partapur.
CEC Gyalson inaugurated a 10 KWP Solar Power Plant at SDM's office Diskit Nubra. The project has been executed by LREDA.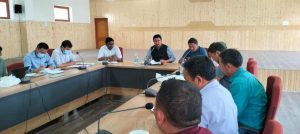 At the conference hall of SDM's office Diskit, a comprehensive meeting was held under the chairmanship of CEC Tashi Gyalson which was attended by the Dy Chairman; EC Minority; DC Leh; Councillor Panamik; Councillor Hunder; Councillor Teger; BDC Diskit, Panamik and Turtuk; ADDC Leh, SE Hydraulic, besides various District officers, and sub-divisional officials led by SDM Nubra. The meeting centred on the issues that came to light during the tour of the subdivision. CEC Gyalson instructed all the executing agencies to exercise way outs to the shortcomings and timely address all the grievances put forth by the people of the Nubra sub-division.
CEC Gyalson also had a meeting with the OC, Project Vijayak, GREF BRO at SDM's office Diskit. Dy Chairman, EC Mehdi, DC Leh, and SDM Nubra were also present during the meeting. Major points were highlighted that came to light during the tour of the Nubra sub division viz. widening of Waris-Fastan road, Warila road and putting crash barriers at the vulnerable spots on priority. DC Leh, Shrikant Suse sought the cooperation of GREF in laying pipelines along the road under JJM given the significance of the project and limited working season. CEC further asked the OC to maintain close liaison with the concerned stakeholders while undertaking road excavation works to avoid inconvenience to the public.
In concluding the tour, CEC and team visited Khardong village and held a meeting to discuss public grievances and to sort out amicable solutions.