Advisor Narula visits Rong-Chumathang block
Reviews JJM & developmental works
Leh, Sep 04: Advisor, UT Ladakh Umang Narula visited the Rong-Chumanthang Block and reviewed the works of Jal Jeevan Mission, and developmental activities undertaken by the Rural Development.
Advisor Umang Narula chaired a meeting with the officers and representatives of Chumathang at the Panchayat Ghar, Chumathang. Various issues relating to Block Headquarters, functioning of the Health and Wellness Center, enrollment of students in schools, and Jal Jeevan work were discussed in detail. Advisor Narula directed the concerned officials to expedite the linking of land records of eligible farmers under PM-KISAN and the execution of works through Panchayat Grant-in-Aid.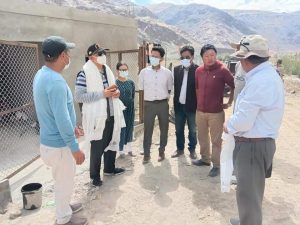 At Chumathang, the Advisor also visited the Source reservoir and Solar-lift pumping station of JJM, where the officials assured that the pending work of solar installation and FHTCs will be completed within two weeks.
Chairman, Block Development Council, Sarpanch Halqa panchayat, Chumathang, Nambardar, Chumathang and President, LBA Changthang submitted their representations and put forth their grievances and issues to the Advisor, Ladakh.
Advisor Umang Narula also visited the Tarchit village to review the JJM work, where the concerned officials of PHE apprised him of the FHTCs and Source reservoir provided to Tarchit village. He also visited a few houses to check the Functional households tap connections (FHTCs). At Hemya, the Advisor visited the Solar-lift pumping station and reviewed the JJM works at Hemya. He also visited the Health and Wellness Centre, Hemya and Government Middle School, Hemya.