Two-day GST awareness-cum-training program begins in Kargil
Kargil, Jan 18, 2023: On the directions of Commissioner, State Taxes Department, UT Ladakh, K Mehboob Ali Khan, State Taxes Office Kargil today started a two-day GST awareness-cum-training program in Kargil.
State Taxes Officer Kargil, Mohammad Yousuf, Inspector State Taxes Leh, Zulfikar Ali, Inspector, State Taxes Kargil, Javeed Iqbal were also present in the program.
The program is being held under the banner of State Taxes Department UT Ladakh. The program is aimed to benefit the taxpayer and DDOs of Kargil district.
The program started with opening remarks by Zulfikar Ali, Inspector State Taxes Leh.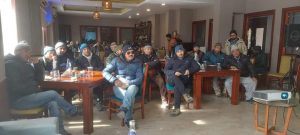 Ghulam Haider, Sub Inspector State Taxes Department Circle Kargil gave a detailed presentation on GST Returns and also presented an overview of the GST. He also discussed various provisions and rules regarding e-waybill and tax invoicing under the GST Act.
A practical session for filing of GST Returns was also held in which Muhammad Amin, Accounts Manager showed the participants how to file GST Returns.
The program was attended by many taxpayers and representatives of business communities of Kargil district including associations like Contractor Association, Druggists and Chemists Association, Merchants Association, All Kargil Travel Trade Association Kargil etc.
The program stressed on GST returns. Later, a question-and-answer session was also held during which the resource persons gave answers to the queries raised by the participants.
In the end, Mohammad Yousuf, STO Kargil presented the vote thanks.