Two days Volleyball tournament at Shargole
Friends Pashkum lifted SMART Vollyball Competition 2022
KARGIL, November 18: Two days Volleyball tournament organized by SMART Association Concluded today at MPS Shargole.
Friends Pashkum won the final match against USC Chiktan and became the winner of SMART VOLLEYBALL Competition 2022.
Sarpanch Shargole Mohd Hassan was the Chief guest on the occasion while as Naib tehsildar Shargole Sonam Joldan was the guest of Honour.
Principal HSS Shargole, Eshay Namgyal , I/C SHO wakha, Namgyal Angchok, Official Referee Javid Atta, President Smart Association Izhar Ashiq and Huge number of Spectators were present during the occassion.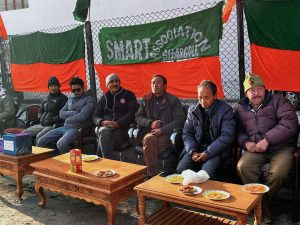 President Izhar Hussain presented the welcome speech and put some youth related issues and demand before the guests.
While addressing the occasion Chief Guest Mohd Hassan assured the Association to address all the issues by taking up with Higher Authorities.
Naib tehsildar Joldan and Principal Eshay Namgyal appreciated the association for organizing such tournament and urged the youths to stay away from drugs and other bad habits by participating in such tournaments.
Later, prices distributed amongs winners and runner up teams.
Beside this, medal and trophies presented to the outstanding players and Officials of the tournament.