16th November 2022
Special Cell for Women Leh organised their 3rd awareness cum outreach programme in collaboration with Ladakh Police in Tangtse, Changthang. The programme was led by Aamir Sohail, social worker based in Women Police Station Leh.
School: Around 120 students from class 9th to 12th Std of Govt. Higher Secondary School Tangtse participated in the programme where we interacted with them about the work of Special Cell, gender and sexuality, understanding consent, gender roles, challenging gender stereotypes and discrimination, masculinity, gender based violence and its impact on health and well being. At the end of the programme, Tundup Angmo, the principal of GHSS Tangtse, appreciated this initiative and asked the students to go home and reflect on these learnings.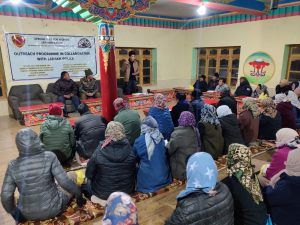 Community: We also interacted with the community members of Tangtse and nearby villages. The programme was attended by the villagers which included the Panch of Tangtse village, President of Women's Alliance Tangtse, President of Tangtse village association along with the Anganwadi and ASHA workers. We engaged with them on different forms of domestic violence, silence, shame and stigma around domestic violence, sexual violence and the importance of rights based intervention in cases of violence. After the programme, the community members shared their own experience of gender discrimination and stressed on the participation of both genders when challenging gender based violence in our society.