UT Level Committee for Decentralized Deployment of Disaster Management Infrastructure holds its First Meeting
10th of every month to be observed as Maintenance Day: Biswas
Leh, March 02: To build a safer and disaster resilient Ladakh by a holistic, proactive technology driven and prompt response strategy, the first meeting of the UT level Committee for the Decentralized Deployment of Disaster Management Infrastructure was held under the Chairmanship of the Secretary Disaster Management Ladakh, Saugat Biswas at the DC Conference Hall, today. This came after the UT administration sanctioned the formation of the committee on February 22, 2023.
In the meeting Secretary Biswas was informed about preparedness of the administration in the face of a disaster. He was informed about the various 'High Value' equipment procured and deployed by the UT administration for search, rescue, and relief operations. Secretary Biswas was also given a presentation on the IRDM software.
Highlighting the importance of a decentralized deployment of machinery, equipment and vehicles for their immediate deployment at disaster sites, Secretary Biswas gave directions to list out the equipment that needs to be kept ready at Block, Panchayat, Sub-District and District administration level.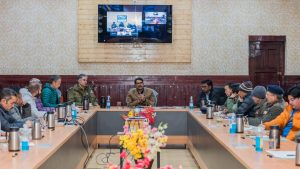 Further he gave directions for training of Aapda Mitra volunteers, Civil defence personnel and other stakeholders by first week of March. They will be trained with skills required to respond to their community's immediate needs in the aftermath of a disaster.
Additionally, Secretary Biswas said that 10th of every month will be designated as a day for maintenance, checking and training of equipment at the Gram Panchayat level, Block level, Sub-District level and District Administration level. Further, he said that heavy earth moving equipments should be deployed at disaster/avalanche prone areas with a fool proof system of operations and maintenance.
The meeting was attended by the Deputy Commissioners, Leh/Kargil; DIG Ladakh; SSP Leh/Kargil; Chief Engineer, PHE/I&FC; Chief Engineer, R&B; Chief Engineer, Mechanical Department; Director Health; All SDMs; SP, UTDRF; Superintending Engineer Mechanical Division; Deputy Director, Motor Garages; District Panchayat Officer Leh/Kargil; All Tehsildars; Deputy SP, SDRF/UT DRF, Leh/Kargil; Divisional Fire and Emergency Officer; Nodal Officer, NDMA-NSRMP; All SHOs; Representative of CE, Vijayak HQ, Kargil, and Representative of CE, Himank HQ, Leh.