Haj Committee Ladakh begins 3-day special drive for intending Haj pilgrims in Kargil
Kargil, March 3, 2023:
Haj Committee, UT, Ladakh today kick-started a three-day special drive for issuance of passport for the intending Haj pilgrims of Kargil district here at Baroo Kargil.
Additional Deputy Commissioner Kargil, Ghulam Mohi-ud-Din Wani inaugurated the appointment process for applicants who are applying for Haj this year. Applicants who are applying for other purposes would be also entertained.
Chairman Haj committee, Ladakh, Muhammad Ali Majaz, Member of Haj Committee Muhammad Ali Chandan, Regional Passport Officer Srinagar, Devender Kumar and his team members were also present on the occasion.
During the inauguration, the ADC instructed the public, who were present at the inauguration of the special drive, to be patient during the process of appointment. He said the process will be done under rules and regulations.
On the occasion, Regional Passport Officer Srinagar, Devender Kumar presented the terms and conditions of the appointment process in front of the participants.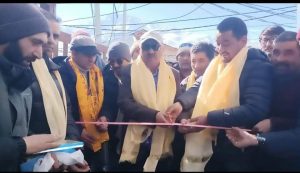 He said after releasing the appointment, the passport will go through proper verification by the concerned police station followed by the CID verification.
He sought cooperation of public as the appointment of 160 applicants in a day is a hectic process. Kumar said the camp was set up on the request of the Member of Parliament (MP), Ladakh, especially for Haj pilgrims 2023.
He said the police and CID verification of a person intending to go for Haj and recommended by the Haj Committee Ladakh will be done on spot. "We will try to get it completed before March 10," Kumar said.
He said there are around 480 applications that will be processed in three days and requested the applicants to bring the original documents with them.
He said such an awareness camp will be conducted in future as well which will end the applicant's long journey which they had to perform earlier at Srinagar Passport Office.