Week-long training program on BLS and ALS concludes.
Leh, 15, Nov 2022
A Seven days long training programme on Advance Life Support/ Basic Life Support for the Paramedical Staff of UT Ladakh organised by the State Health Society under National Health Mission, UT of Ladakh in collaboration with JPNATC AIIMS, New Delhi concluded today at the conferences hall, SNM Hospital Leh.
The training was organised to implement 108-dial Ambulance Services in UT Ladakh.
On the Concluding day, Dr. Iftikhar Chowdhary (IRS), Mission Director, National Health Mission, UT Ladakh extended gratitude to the trainers of BLS/ALS and stressed paramedical staff to about the importance of timely intervention and shifting of critical patients to nearest hospital for advanced expert care. He also stressed the staff to implement the learnings of the training practically on the ground.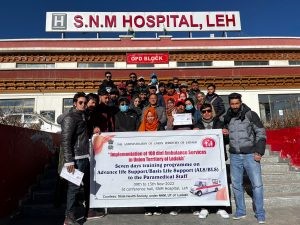 The training programme was started on the 9th of November and concluded today on the 15th of November 2022.
The Trainers for the 7 days long program were Dr Tsering Morup, Senior Anaesthetist, SNM, Hospital Leh and Dr Benazeer Khatoon, Anaesthetist, CHC Sankoo, Kargil.
The Expert team from JPNATC AIIMS, New Delhi and NHSRC comprised of Dr Tej Prakash Sinha, Dr Musarrat Siddiqui and Dr Jyothi Swaroop Bhaskarayuni and others joined through virtual mode to give orientation to the participants.
During the training sessions, the resource persons highlighted the importance of Basic Life Support and trained the participants about the prompt recognition of several life-threatening emergencies, how to give high-quality chest compressions, how to deliver appropriate ventilation and early use of AED.
The experts stressed the Paramedical staff to know how to perform CPR and other basic cardiovascular life support skills.
During the training, practical demonstrations were shown by Dr Benazir Khatoon, participants were taken to the emergency room, ALS & BLS Ambulances for field visits and mock drills were also done.
Certificates were distributed among the participants by the Mission Director, NHM Ladakh.
A total no. Of 36 participants from both districts of UT Ladakh attended the training program. These paramedics will be deputed at different locations with ALS Ambulances for attending to medical emergencies received from general public on dedicated call number established for UT Ladakh.