Women Self Help Group of Ladakh to be groomed as entrepreneurs 
Comissioner/Secy Rural Development, Ladakh Saugat Biswas reviews functioning of NRLM
Leh, June 3: Secretary Rural Development Department, Ladakh Saugat Biswas chaired a meeting of the Ladakh Rural Livelihood Mission (LRLM) to review progress of its implementation in Ladakh.
The meeting deliberated on the current position of the various schemes of the Livelihood Misssion in agriculture and non-agriculture livelihood activities and discussed block wise progress in both the districts.
The Commissioner/Secy directed the respective District Coordinators and their teams to form Village Organizations (VOs), mobilise women and ensure regular meetings with the beneficiaries at village level to provide correct and complete information regarding the scheme. Biswas gave directions for formation of more Self-help Groups (SHGs) in every Gram Panchayat in both the districts so as to benefit maximum number of women. He stressed that the women SHG members of Ladakh must be aimed for being developed as entrepreneurs. The aim of the scheme of making rural women financially independent must be achieved to the fullest.
It is pertinent to mention here that LRLM is being actively implemented in Ladakh and so far, more than 900 SHGs, 62 Village Organizations (VO) and 8 Cluster Level Federations (CLF) have been formed in Ladakh. The LRLM team apprised that more than 450 bookkeepers IDs have been created on the LOKUS application.
Under the programme, the SHG members are also provided training in their respective fields of livelihood. In this regard, 83 SHGs were trained in Leather Product Making organized in collaboration with the Central Leather Research Institute and Department of Industries and Commerce, UT Ladakh. Additionally, leather stitching machines have been also provided to SHGs members in Chuchot block.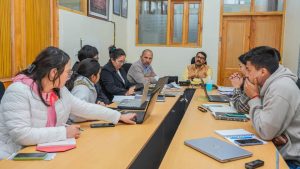 Further, discussions were held on conducting intensive works in the vibrant villages of Rong, Nyoma, Durbuo and Rupsho. Commissioner/Secretyary issued directions for the publication of monthly newsletters about the progress of NRLM work in both the districts.
He further stressed that providing livelihood opportunities for the rural women is the priority of the mission, adding that proposals will be put up to provide subsidy to the beneficiaries by the LRLM and directed the concerned officials to identify individual beneficiaries and groups from Leh and Kargil.
Mission Director LRLM Tahir Hussain, District Coordinators, Leh and Kargil and other concerned officials of the department attended the meeting.