KARGIL, JUNE 14, 2022: District Health Society in collaboration with supporting agencies like Ladakh Blood Donors, Al Reza Health Care and Research Foundation and Baqirya Health Care and Research Centre Kargil today observed World Blood Donor Day at District Hospital Kargil.
A day-long blood donation camp has held at the district hospital in which hundreds of blood donors including Executive Councilor Works, LAHDC, Kargil Aga Syed Abbas Razvi, President Jamiat Ul Ulama Isna Asharia Kargil Sheikh Naazir Ul Mehdi and various civil society members participated in the blood donation drive.
On the occasion, EC Razvi said the World Blood Donor Day reaffirms the importance of blood donation in saving the lives of people who are in dire need of blood.
While highlighting the importance of blood in emergencies, the EC urged people to actively participate in blood donation drives to avoid any tragedy with the patients who require blood.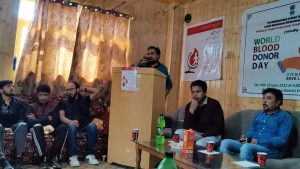 President Ladakh Blood Donors Nasir Zaidi said earlier it was a tough task to arrange a pint of blood in Kargil. He, however, said with the establishment of blood donation organizations and private healthcare wings, now blood is easily available to the concerned health agencies.
Incharge Chief Medical Officer Kargil Dr Muhammad Abbas, Medical Superintendent DH Kargil Kacho Liaqat Ali Khan, RMO Shabbir Hussain, Consultant Pathologist Dr Haji Ali, Consultant Anesthesia Dr Abbas Ali and concerned officers of the Health Department were present on the occasion.
The theme for this year's World Blood Donor Day is 'Donating blood is an act of solidarity. Join the effort and save lives.' The day is observed every year across the world on June 14 to raise awareness of the need for safe blood and blood products and to thank voluntary, unpaid blood donors for their life-saving gifts of blood.