World Health Day observed at Sankoo
Kargil April 07, 2023: World Health Day was today organized by Block Medical Officer Kargil at Govt. Middle school Thang Lankerchey with the theme "Health For All".
The day is celebrated on April 07 to raise awareness about global health issues and mobilize efforts towards improving health and well-being of people around the world. This day was established by the World Health Organization (WHO) in 1950, and each year it focuses on a specific health issue.
The function was attended by Dr Syed Abul Hassan, Medical Officer, CHC staff, teaching staff of GMS Lankerchey and students.
He talked about the importance of general health, hygiene and nutrition. Dr Hassan advised students to go for regular exercise, meditation, yoga and get sufficient sleep.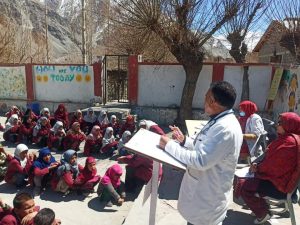 The students were also advised to adopt a healthy lifestyle and eating habits and do physical activity on daily basis to stay fit and healthy.
The World Health Day was also celebrated at Govt. Girls Middle School Thasgam organized by Health & Wellness Center Thasgam, Sankoo. On the occasion, Community Health Officer, ANM, teaching staff and the students were present on the occasion.
During the program, Community Health Officer H&WC Thasgam briefed about the importance of health education like health services, physical education, psychological services, nutrition and food programs, health promotion and healthy environment, disease prevention to the school children.
Similarly, the World Health Day was also celebrated at ABH &Wellness Center at Lankerchey. On the occasion, incharge pharmacist and CHO gave awareness on health education to the school children.