10-day Yarchos Chenmo begins with religious fervour in Leh
Leh, August 1: His Excellence Thiksay Rinpoche in presence of HE Chato Rinpoche, HE Khen Rinpoche, Chairman/ CEC, Leh, Tashi Gyalson,Member of Parliament, Ladakh and President Ladakh Gonpa Association inaugurated 10 days Yarchos Chenmo.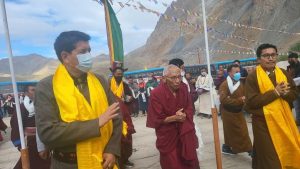 uk
Stressing on the importance of having the thought of human being first for a peaceful world, HE Thiksay Rinpoche urged to treat everyone equally irrespective of any background or class they come from.
He further added that every religion talks about Peace, Love and compassion and we should act for the benefit of all sentient beings.
Yarchos Chenmo was organised and initiated every year after the recommendation of His Holiness to make people understand the religious education, moral education and to promote inter-religious harmony in Ladakh.
BDC, Chairman Singay Lalok, Sarpanchs, Nambardar, Public of Trans Singay La, Students from different schools, Religious Scholars, Monks of Lingshed Gondpa attended the council.