CEC Leh reviews status of works under CAPEX
Leh, Aug 1: To review the progress and the status of works under the CAPEX budget in Leh, the Chairman/Chief Executive Councillor, LAHDC, Leh, Advocate Tashi Gyalson chaired a review meeting with the head of departments (HODs) and concerned district officers at the DC Conference Hall today.

CEC Gyalson reviewed the status of various projects in departments like the Rural Development Department, PWD, I&FC, PHE and the works undertaken by different executing agencies.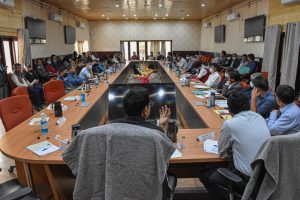 CEC Gyalson further directed all the officers to ensure 100% expenditure in every sector and all physical work to be done per allocation.
Taking note of the delay in the implementation of allocated works and expenditures in the District Plan, CEC Tashi Gyalson directed the concerned HODs and engineers to speed up the work process under the District Plan of the CAPEX budget within the given time frame.