60 Progressive Farmers of Zanskar reach back from exposure tour prior   todays snowfall 
Date : 23 Oct 2021
EC Punchok Tashi Hon'ble  for Tourism, RD and Zanskar Affair received the team of 60 progressive women farmers at newly constructed Zanskar Sarai Kargil. The farmers were belongs to various village of Zanskar who are on an exposure tour since last 10 days visiting various agriculture institute in Lahoul, Manali, Palampur and Dharamsala conducted by Agriculture Department Kargil.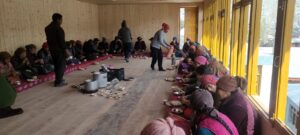 The team proceeds from Padum to Darcha (HP) 140 KM and were suppose to return from the same road but due to recent snowfall and closure of Shingkunla they had to return via Jammu, Srinagar and Kargil which prolong their route by 1000 KM.
The objective of the exposure tour was to give awareness about cash crops being cultivated in neighboring Lahoul District such as Potatoe,Peas, brokli, Heeng (Asafoetida ) and Rustha (Kuth) so as to explore and implement similar kind of agriculture in Zanskar valley to enable the poor peasant a source of livelihood.
Sh Punchok Tashi while speaking to the farmers has appreciated the effort of officer of Agriculture Deptt Kargil and emphasis the farmers of practically implement whatever exposure and knowledge they gain through this visit and also requested to become resource person in their particular villages.
The team were lead by Sh Tsering Norbu Sub Divisional Agriculture Officer Zanskar,
Sh Kacho Ahmad Khan Chief Agriculture Officer and Mohd Hussain Head Quarter Asstt were also present in the concluding occasion.