CEC Feroz Khan takes stock of physical, financial progress of works under Subsidy Component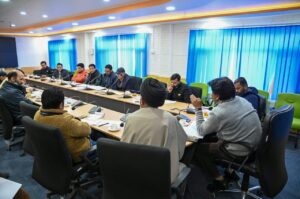 KARGIL, NOVEMBER  01, 2021:Chairman and Chief Executive Councillor, LAHDC, Kargil Feroz Ahmad Khan convened a meeting of the concerned district officers to review the physical and financial achievements under Subsidy Component of District Capex Budget 2021-2022 at Council Secretariat Kurbathang here today.
Executive Councilor for Social Welfare Aga Syed Hassan Arman, Executive Councilor for Health Mohsin Ali, Deputy Commissioner and CEO LAHDC, Kargil Santosh Sukhadeve, Chief Controller Finance, LAHDC, Kargil Showkat Ali Rather,  Chief Education Officer Nazir Ahmad Wani,  Chief Animal Husbandry Officer Dr Muhammad Ismail, Chief Agriculture Officer Kacho Muhammad Ali Khan, Chief Horticulture Officer Ali Raza, Assistant Director Tourism Aga Syed Toha, Assistant Director Fisheries Murtaza Ali, In Charge District Sheep Husbandry Officer Dr Zakir Hussain besides other concerned officers attended the meeting.
Detailed discussion was held on different aspects including the percentage of subsidy, fixation of rates, procurement and bidding of products, transportation charges besides other related aspects and the district officers informed the CEC about the status of progress achieved so far under different schemes.
As regards to the Animal and Sheep Husbandry sectors, the CEC was informed that 124 sheep units have been established at different villages besides necessary items have been ordered. It was further informed that order for cattle feed has already been placed and 800 poultry units have also been established.
The CEC directed that regrading the establishment of sheep units, stringent measures should be taken to ensure proper weight of sheep and procurement of cattle he said that immediate steps should be taken so that the allotted amount doesn't get surrendered.
In the context of Agriculture Sector the meeting was informed that orders have already been placed for the procurement of seeds, polycarbonated sheets, UV films and other essential items while pertaining to Horticulture Sector it was given out that for establishment of individual orchards Rs 19.71 lacs have been sanctioned and 28 units are supposed to be established under which 80 per cent of payment has been released.
With regard to Education Department, the CEC directed that for winter tuitions classes should be categorised from 6th to 10th, adding he stressed the concerned officers to ensure proper implementation of winter classes by adopting all ways and measures.
Meanwhile, the CEC took detailed review of subsidy component of various other departments including Handloom, KREDA, Handicrafts, Cooperatives and Tourism. He stressed officers to take concrete measures to ensure that the benefits under the subsidy component reach the beneficiaries in the best possible manner and targets are achieved in full.
Khan instructed all the concerned officers to make sure that all machinery, equipments and other items are procured timely well before closure of the Zojila Pass. He also stressed them to ensure expenditure under subsidy component well before the end of the current financial year.