Leh, May 03: The 37th Battalion of Indo Tibetan Border Police (ITBP), Leh organised a flag-off ceremony for the Bharat Darshan Tour 2021-22 at Kumba Hall of the 24th Bn ITBP, Choglamsar, Leh today.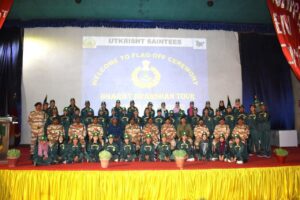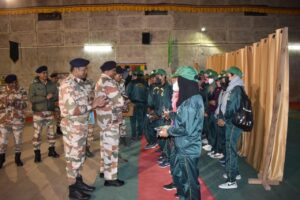 The event was organised in the presence of Deputy Inspector General (DIG), North-West Frontier, ITBP, M Kumar; Commandant, 37th Bn ITBP, Piyush Pushkar; Second-in-Command, 24th Bn ITBP, Mang; Deputy Commandant, 5th Bn ITBP, M D Singh; Deputy Commandant, 16th Bn ITBP, Mohit Verma; other officers, and Himveers of ITBP.
A total of 46 students who are residents of Housing Colony, Leh and Chuchot Shamma, Leh along with two teachers and two ITBP officials are part of the touring group.
During this tour, the team would visit places of interest, historical significance and monuments from Leh to Delhi and Vadodara in Gujarat.
The tour is organised to enhance students' knowledge by visiting different places and inculcate coordination and cooperation skills while away from home. This initiative also aims to develop a mutual relationship between security forces and the civilians and let them experience the feeling of unity in the diversity of our country.